ask andre

w's mission
MAKING NARCISSIstic behavior a crime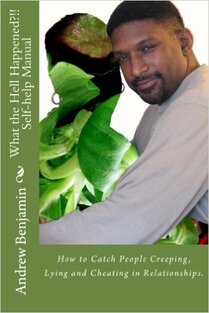 A woman is quoted in Andrew Benjamin's first book on Narcissism:



"I have ruthless cousins & ex-friends. I have probably seen every dirty thing that a woman could do 2 a good man who loved her. They took advantage of these men to the 59th power. Do you understand that? It was worse than a father being wrapped around his little girl's finger! Do you understand? They literally used & abused these poor men, but when the men woke up, oh my goodness, it was on & ugly!"

What are some of the wicked things she's referring to:

Calling the police with deceitful allegations of domestic abuse.
Physically abusing you.
Sadistic attacks on your self-esteem.
Character assassination.
Isolation from family and friends.
Financial devastation.
Emotional murder with infidelity.
Causing criminal records for over reacting (jail time).
Bestowing Psychological Trauma (PTSD)
Getting women pregnant without intentions of taking care of the baby.
As survivors of Narcissistic abuse, it is
OUR DUTY
to make sure that Narcissist doesn't harm another human being again in the manner they are accustomed to – especially without recuperations.
I once told my Narc:
"You can't keep doing this to people – and you going to learn from me!"
I intend to make good on that promise.
The attempt to make Narcissism
"A CRIME" –
punishable with jail time, records like a pedophile, and/or reparations, will immediately commence after the COVID crisis.
Reparation:
the making of amends for a wrong one has done, by paying money to or otherwise helping those who have been wronged.
The laws of yesterday must to be changed to match
THE
MENTALITY
of today! Too many people know the loop-holes in the laws; which is called "Playing the System". In other words, the laws have to be more Narcissistic because when they were created, they were more humanistic.
A relationship is an investment, and you lost your money to a Con Artist (which is a crime in itself), and you should be refunded at least half of the money you invested in an individual who had no intentions to fulfill their part of the bargain (the future of growing old together). The Con Artist has to pay back with the same criteria of someone on Child Support.
These are just general opinions, but details of the penal law can be hammered out by law-makers!
New York: Section 255.17 of the
state penal law
states, "A person is guilty of adultery when he engages in sexual intercourse with another person at a time when he has a living spouse, or the other person has a living spouse. Adultery is a class B misdemeanor." A class B misdemeanor is punishable by up to 90 days in jail or a $500 fine. The issue here is in most states, outside of Divorce Court, punishment is not implemented – therefore, there's a callous nature towards it – and the Narcissist capitalizes on it.
My Narc with quotes of her own towards this callous nature:
"He embarrassed himself! And it's clearly a break up nothing more nothing less."
"Everybody's been cheated on, but some just don't know it. Well consider them saints but I have no regrets...no remorse and went out with a bang!"

"He's a grown man, he's not a toddler people....people will do shit to people every day. My mom taught and instilled me...it's how you deal with it."
Lilith herself told me during our courtship that she's done many bad things to people.
This is the mindset of the typical Narcissist. They know what they are doing – they just don't care. Since they don't care, it's up to the Judicial System to care, and to keep the peace. If there is no justice, then they're can be no peace!
ENFORCING THE LAWS ALREADY IN PLACE
upon a Narc by granting jail time for perjury, defamation of character and reparations for physical and emotional abuse – and in some cases, pay alimony since many survivors
SUFFER FOR YEARS
from Post Traumatic Stress Disorder and find it hard to function in daily life without therapy – which they can barely afford.
Police departments will be
trained
to arrest Narcissist who summon them with false / bogus accusations (such as calling the police because you ere using the 'washing machine'.)
A Narc will do a ROYAL MIND-FUCK on you and then tell you to seek therapy as if YOU were the problem. The human mind wasn't designed to deal with these MONSTERS; and the world needs a protector! Make that protector the Judicial System!
I've met some resistance with people telling me, you can't make Narcissistic Behavior a Crime...but the "United Kingdom" already have the law in place as well as other European Countries.
NEW LAWS IN THE UK IN 2015 TO MAKE EMOTIONAL ABUSE ILLEGAL
https://datingasociopath.com/…/new-laws-in-the-uk-in-2015-…/
.

Can't make the behavior a crime? Nonsense!
-
When a drug addict commits a crime such as breaking and entering, even though drug addiction is classified as a medical condition - he is held accountable, and goes to jail.

​Same principle applies here. Hold the Narcissist accountable for their actions.
| | |
| --- | --- |
| | This is the time to make a Narcissist "ACCOUNTABLE" (key word: "ACCOUNTABLE") by signing this petition to make Narcissism a crime and prevent them from "walking away" as if you never mattered. Please sign the petition (to the right) to send to congress to implement |
"LILITH'S LAW" as a "LAW"!