finally....it's here!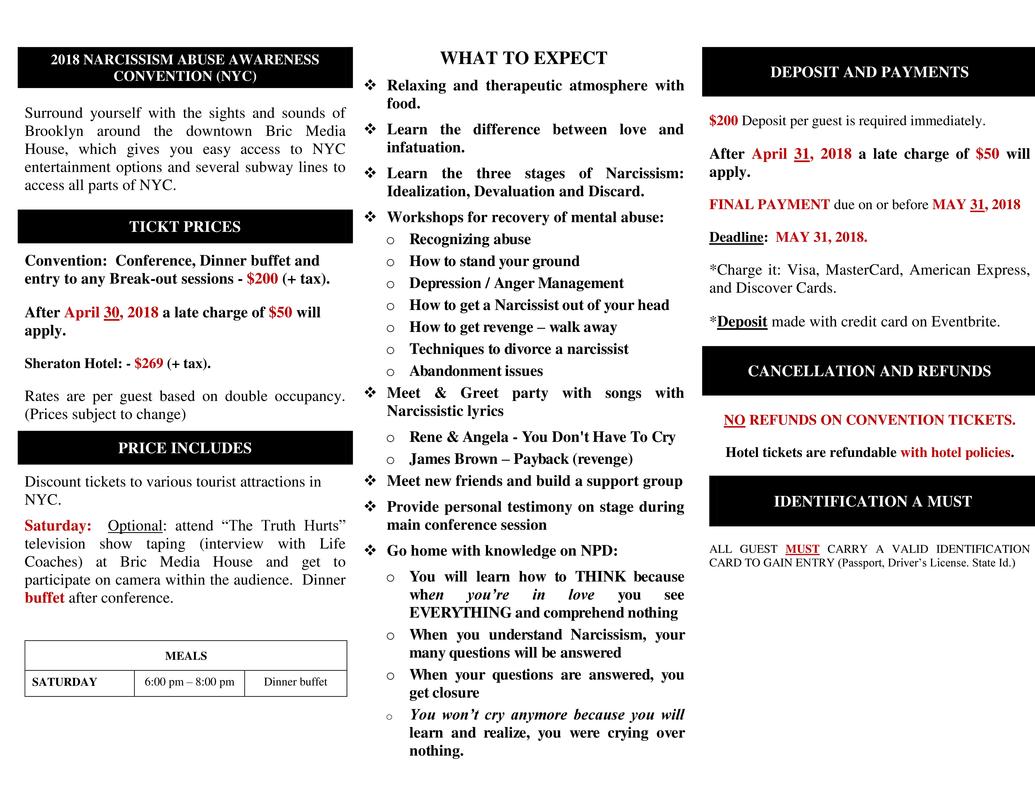 GLOBAL EVENT WILL BE STREAMLINED


This convention is not just for those that can afford it. Financial ruin is the "trademark" that a Narcissist has been present in someone's life.

Not everyone can attend because only 200 can attend, therefore, this convention will be streamlined to various parts of the world. So to
everyone who asked me in Paris, Italy, Germany, South America, Africa, etc. for this convention to be streamlined because you can't make it....your wish has been granted.

WHAT TO EXPECT
Relaxing and therapeutic atmosphere with food.
Learn the three stages of Narcissism: Idealization, Devaluation and Discard.
Workshops for recovery of mental abuse:

Recognizing abuse

How to stand your ground
Depression
Anger Management
How to get a Narcissist out of your head
Divorcing a narcissist
Abandonment issues

Meet & Greet party with songs with Narcissistic lyrics
Meet new friends and build a support group
Provide personal testimony on stage during conference session
Go home with knowledge on NPD

You will learn to THINK because when you're in love you see EVERYTHING and comprehend nothing!
When you understand Narcissism, your many questions will get answered.
When your questions are answered, you're more at peace.
With your questions answered, you get closure.
You won't cry anymore because you will learn and realize, you were crying over nothing.
ARE YOU ATTENDING THE 2018 NARCISSISTIC ABUSE AWARENESS CONVENTION (NYC)
ARE YOU TRAVELING OUTSIDE THE UNITED STATES?
ARE YOU ATTENDING THE CONVENTION ALONE?